Professional Prints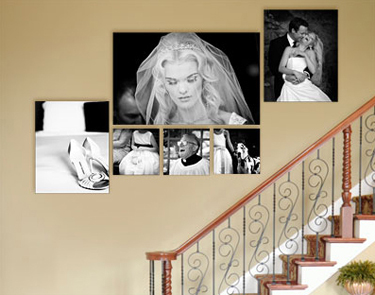 Yes, you can get wedding prints produced anywhere. Yes, there is a difference. Would you paint your car with a can of spray paint or take it to a professional to be painted? The same applies here. If you are going to print an image to display, it's artwork! Artwork should be presented in its best light and printed professionally. Professional prints not only look better, but are treated to last a lifetime. I offer nearly every available option you could possibly want everything from wallet size to large prints on several medias. Even better, every image is available in an Online Gallery that can be password protected. Perhaps best of all, every guest to your event has the option to login to their personal edition of your gallery which allows them to view, select and buy their favorite pictures.

Thin Wrap Floating Fine-Art Wall Prints
Wow! Until you see these in person you just won't understand how these pop right off the wall. Thin Wrap are a stylish, frameless way to display your images as stunning artwork! They begin with print on your choice of a Lustre or Metallic Paper, then are over-layed with a soft Satin Laminate. It is then wrapped on a hard, sturdy Gatorboard. Finally, a 1/2" spacer with mounting bracket is applied to the back of the Thin Wrap which allows the image to be hung and appear to float from the wall. The image has a timeless glow that leaves a timeless Fine Art Gallery quality impression on all who see them.

Canvas Wrap Fine-Art Wall Prints
All of the Canvas Prints are produced on Museum Quality Canvas that are printed with Archival Inks. These are not your run of the mill Canvas Prints, these are of the same quality that you will see on display at museums, high-end stores, and galleries around the world. Canvas Prints are a great affordable way to show off your images as artwork.. The canvas print is then wrapped around a stretcher frame so that the photo's edges are visible on the sides of the frame.
Metal High Gloss Fine-Art Wall Prints
Metal Print represent a new art medium for preserving photos by infusing dyes directly into specially coated aluminum sheets. Because the image is infused into the surface and not on it, your images will take on an almost magical luminescence. They have an ultra-hard scratch-resistant surface that is waterproof/weatherproof and can be cleaned easily with any commercial glass. Colors are vibrant and the luminescence is breathtaking. The metal prints feature a float mount, which sets the print away from the wall without being visible.