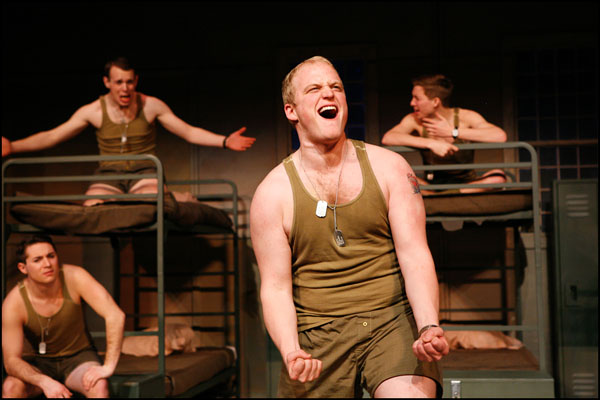 Last night we shot the production photos for The Montana Rep production of Neil Simon's Biloxi Blues.  The production is having a limited run in Missoula in The Montana Theater at The University of Montana before it head off on a national tour the beginning of next week.  This is a masterful production of the timeless classic dedicated to "the men and women in our military ranks who help to protect and defend the American Dream".  I highly recommend the show as it is both heartfelt as well as funny as most of Simon's writings.  The cast on this show are particularly strong (soon to grow stronger*) with great performances bring in members' from Actor's Equity from New York for a few of key roles, but it is the students that truly shine in this production.
I have been working with The Montana Rep for almost 2 decades now.  I worked in most every capacity possible in the theater to take many of the production on tour.  I am lucky to have been photographing them since I first got into photography many years ago.  They always say shoot what you know, and this is a company I know with all my heart and soul.  It is one of the few if not last touring theater companies of its size and nature.  The tour is comprised of mostly students that take on one of the greatest journeys of their lives when they sign on to be a part of the production.   Not only do they act, they have to become a part of the team that puts the show together day after day.  Everything for the production is self contained.  It must be unloaded, set up, focused, tested, preformed, torn down and reloaded often with the confines of a single day, often for many days in a row without breaks.   My heart goes out with you this year, and every year, as you make the rounds and delight so many people, this experience becoming their only interaction with live theater.  Here's to you, for making the beauty of theater so magic.
*These Montana Rep shows are a real workout, and every time I have gone they have put me in the best shape of my life.  The sets pieces are heavy and everything gets assembled for each production.  They will become so strong they will be able to do a 200 push up with little ease by the time they finish.